Exmoor
The exmoor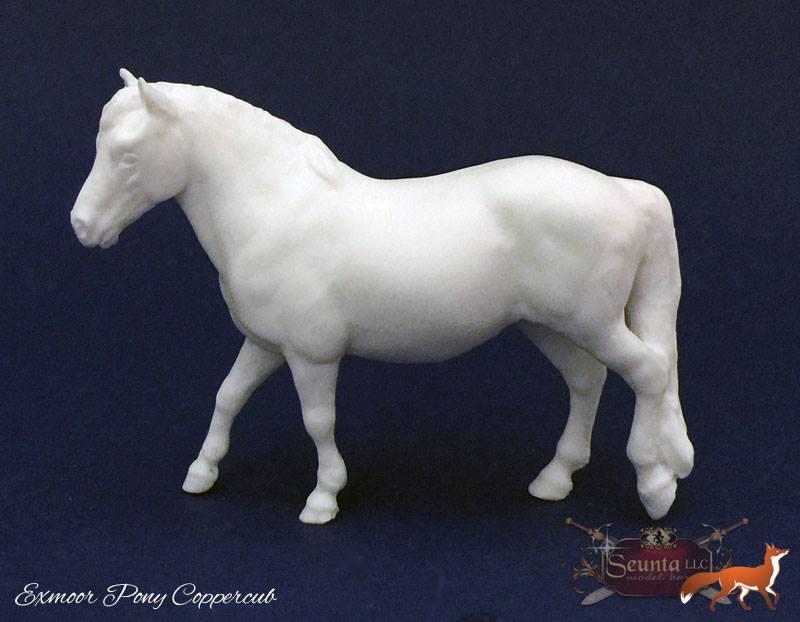 The Exmoor pony model was sculpted by Harriet Knibbs. She named the mare "Dunkery Belle" after Dunkery Beacon, a well-known landmark and the highest point on Exmoor. At 694 square kilometers, Exmoor is one of the smallest national parks in England, but it's also one of the most varied, with a magnificent coastline, woods, moorland, farmland and villages.
The moorland has been grazed by Exmoor ponies for centuries, and they are still a common sight – although you sometimes have to look hard because their colouring provides them with excellent camouflage! Their appearance is one of the things that makes them so special, as they all look remarkably similar, with no white markings. They are various shades of brown, with black points, predominantly dark manes and tails and a distinctive oatmeal colour on their muzzles, round their eyes and inside their flanks.
The Exmoor Pony Society was founded in 1921 to establish and promote the breed, yet sadly by the end of the Second World War only about forty-six mares and four stallions were left on Exmoor. Now, thanks to both local farmers and enthusiasts all over the world, numbers have increased to a total of around 4,000 registered mares, geldings and stallions worldwide. However, only about 500 of these are breeding mares that have had a foal in the past five years, so the Exmoor pony is classified as a native breed at risk by the Rare Breeds Survival Trust.
Exmoors are known as "the ultimate four-by-fours", being sure-footed, highly intelligent and strong enough to carry a small adult even though their average height is around 12.1 hands (125 cm). It's said that once you've earned an Exmoor pony's trust you'll have a friend for life, although taming a foal from a free-living herd takes time and patience.
The breed has done well in most activities, including mounted games, jumping, showing, dressage, long distance riding and driving. It has also excelled in the relatively new sport of horse agility.
If you'd like to learn more about Exmoor ponies, the Exmoor Pony Society has a website packed with information:
www.exmoorponysociety.org.uk
. A visit to the southwest of England isn't complete without a trip to Exmoor and the Exmoor Pony Centre, near Dulverton:
www.exmoorponycentre.org.uk